"For this reason a man will leave his father and mother and be united to his wife,[b] 8 and the two will become one flesh.'[c] So they are no longer two, but one flesh. 9 Therefore what God has joined together, let no one separate."
Mark 10: 7
The sacrament of marriage expresses your faith in God and your love for each. When you exchange your vows, you publicly proclaim your unending love for each other and your intention to remain together for life.
When the church says your marriage is a sacrament, it means that your visible love and faithfulness to each other becomes a witness and an effective sign of God's love and care for all people.
Your marriage is a sacramental sign not just to each other, but to all. Your wedding liturgy reflects your faith in God and in each other and this is expressed in the prayers and scriptural readings.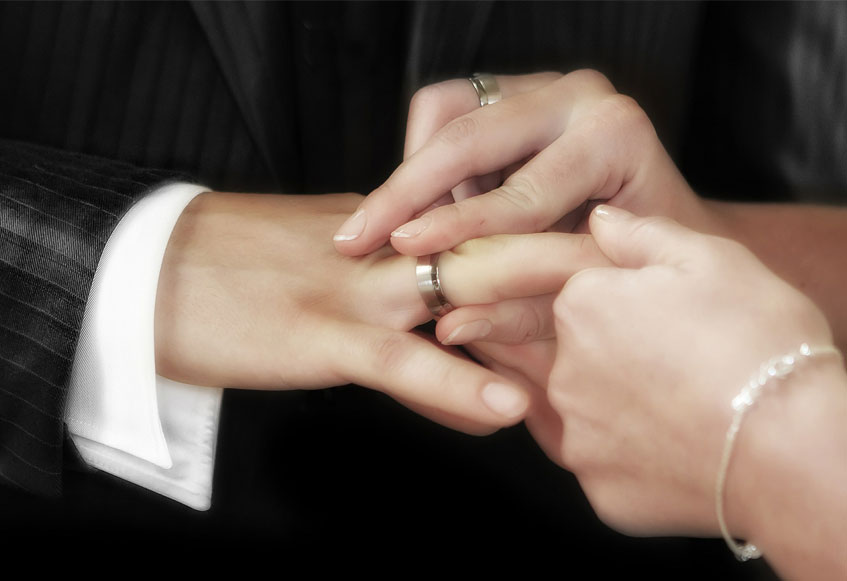 "I, take you to be my wife/husband. I promise to be true to you in good times, in sickness and in health. I will love and honor you all the days of my life." The priest then blesses the couple, joins their hands together, and asks, "Do you take (bride's/groom's name) as your lawful wife/husband, to have and to hold, from this day forward, for better or for worse, for richer or for poorer, in sickness and in health, to love and cherish until death do you part?" When they say "I Do" , there happens a family.
We strongly recommend couples attend the Diocesan Marriage Preparation course as the course sets the foundation for a deeper understanding of the commitment each will be making to one another for life. It also gives greater meaning to the sacrament of Marriage, and the Church's teachings.
St Benedict's has a beautiful historical church that is a perfect setting for wedding. There is also a hall/crypt that is available for refreshments after your wedding. The brochure below explains more about weddings at St Benedict's.
If you wish to book your wedding at St Benedict's, please see Father after mass.
Book St Benedict's Parish
Whether it's a wedding, a reunion, charity ball, holiday celebration or other special occasion, our team and facilities make each event unique and memorable.